Peruvian native Shelbin Santos (pictured above with her mother) fulfilled a lifelong dream when she opened Chicken Latino in 2007. "Even today, some of my fondest memories from childhood are when we would sit down with extended family and dine on traditional Peruvian dishes from recipes my mother created. I wanted to bring that whole experience to America."
And Santos has gone to great lengths to deliver that authentic Peruvian experience. She even imported a special wood-fired brick oven from Peru that enables her to cook special dishes in authentic Peruvian style. With her oven and recipes from home, Santos has brought a unique Latino flavor to a neighborhood known for great food. And that flavor has become a big hit: "It gets so crowded sometimes that there are not enough tables," Santos says.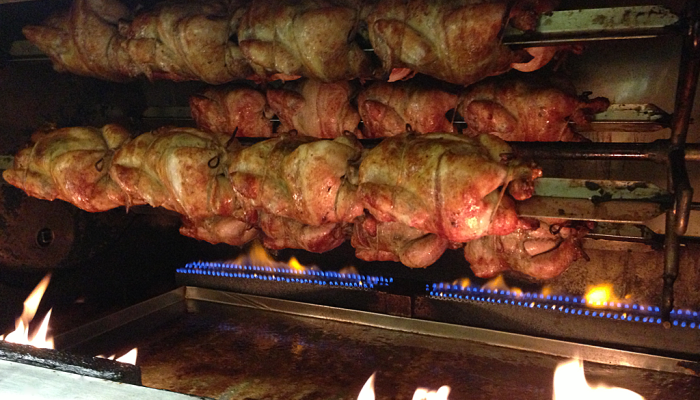 Santos' signature dish is her Pollo a la Brasa. The chicken is marinated overnight for a moist texture and full flavor. It's then seasoned with a variety of spices including cumin, garlic, cilantro and dried Peruvian chilies. It's no wonder Santos uses her secret recipe in a wide range of Latino chicken dishes that are enhanced with side dishes like the crowd-favorite black beans and rice.
In response to popular demand, Santos also expanded her menu to include some Mexican-style dishes and a kid's menu. "We put chicken fingers on the menu just for the children," Santos says. On weekends, an additional menu features Peru's national dish, ceviche, made with fresh tilapia, along with other selections such as pork roast and Peruvian shish kebabs.
Customers can down all this with traditional Peruvian Inka Cola, a popular and delicious fruity drink with hints of coconut, banana, and pineapple.
And the spacious and colorful restaurant, sometimes features entertainment, as well. Salsa dancing is a particular hit. "Everyone just gets up and dances," Santos says. "All of the customers!"
That local willingness to embrace new flavors and experiences has helped Santos bring Peru's fabled passion for food and friends right to the heart of the Strip District. "Here in Pittsburgh, it's so cultural," she says. "It's a melting pot, just like Peru, but the people are so wonderful it feels like a small community. It's very welcoming here. I love Pittsburgh, and I love my restaurant here."